What is the difference between
Pre-Qualifying and Pre-Approval?

A pre-qualification is normally issued by a loan officer, who, after interviewing you, determines the dollar value of a loan you can be approved for. However, loan officers do not make the final approval, so a pre-qualification is not a commitment to lend. After the loan officer determines that you pre-qualify, he/she then issues you a pre-qualification letter. This pre-qualification letter is used when you are making an offer on a property. The pre-qualification letter indicates to the seller that you are qualified to purchase the house you are making an offer on.

Pre-approval is a step above pre-qualification. Pre-approval involves verifying your credit, down payment, employment history, etc. Your loan application is submitted to an underwriter and a decision is made regarding your loan application. If your loan is pre-approved, you are then issued a pre-approval certificate. Getting your loan pre-approved allows you to close very quickly when you do find a house. A pre-approval can help you negotiate a better price with the seller, since being pre-approved is very close to having cash in the bank to pay for the house!
For help with home financing, home loans, home mortgage financing, mortgage loans, home financing, mortgage, Colorado home loans, Colorado mortgages, mortgage rates, pre-qualifying, pre-approval, FHA, VA, Conventional, current interest rates & mortgage options - please contact one of my preferred mortgage loan brokers below who can help you get pre-qualified for a loan. The companies and contacts below have proven to be outstanding mortgage brokers who can help with New Home Loans or Re-Financing. There is absolutely no charge or obligation and is a vital first step in preparing to purchase a property.

Get Pre-Qualified for a Home Loan Today!
Preferred Local Mortgage Lenders

* Caliber Home Loans - Tiffany Swisher @ 303.884.4137
* Home Mortgage Advisors - Deana Hollstein @ 303.818.0522
* Nexa Mortgage - Lainie Chambers @ 720.495.2788
MORTGAGE LOANS FOR VETERANS - VA LOANS





Home Buyer's Guide |

Home Seller's Guide
Buy a Home | Find Your Dream Home | Pre-Qualifying for a Mortgage | Home Mortgage Loans
Homesnap App | First-Time Homebuyers | Relocation to Denver Colorado | Where to Live in Denver
Reliable Contractors | Honest & Trustworthy Advice | Community Resources | Active & Sold Listing Virtual Tours
Invest in Denver Real Estate | Sell a Home | Property Values | Denver Real Estate Market Reports
Colorado Realtor Reviews | Meet Anthony Rael | 'Just Call Ants' | Home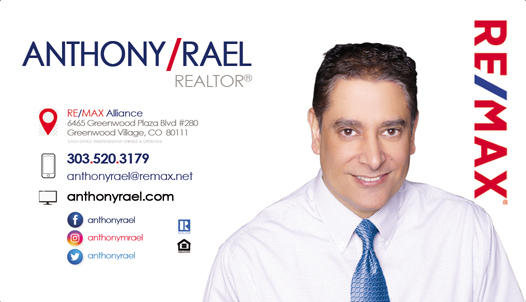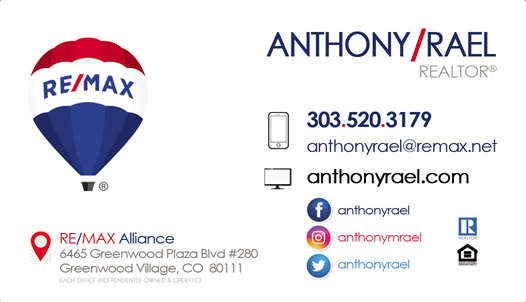 / RESIDENTIAL REAL ESTATE / NEW HOME CONSTRUCTION / RELOCATION / FIRST-TIME BUYERS / INVESTMENT PROPERTIES /




© 2005-2023 ▪ ANTHONYRAEL.COM | ALL RIGHTS RESERVED | PRIVACY | SITEMAP | HOME

Anthony Rael | REMAX Alliance - DTC | 6465 Greenwood Plaza Blvd #280 | Greenwood Village, CO 80111 | 303.520.3179
Licensed Colorado Real Estate Agent | Certified Negotiation Expert (CNE) | Seniors Real Estate Specialist (SRES)
AnthonyRael.REALTOR | HomesInColorado.info | SearchHomesInDenver.com | HomesForSaleDenverColorado.com

REMAX | RE/MAX, LLC | RE/MAX Rocky Mountain | RE/MAX Alliance | REMAX.com