FHA Kiddie Condo Loan
Buying your first home is a big commitment and mortgages can be extremely expensive. However if you are a first time homebuyer there is a loan option that is specifically designed for young adults purchasing their first homes. This loan is designed to provide a way for parents to help their young adults into a home. These loans have a lot of benefits and could save you money if you qualify. Don't let the name fool you, the property does not have to be a condo, single-family homes are included in this FHA loan program.
The FHA 'Kiddie Condo Loan' is an incredible alternative for college students or those looking for a credit program that will permit them to have co-borrowers. Fundamentally what this credit system does is permit blood relatives to co-borrow on a FHA loan, which is the reason this stands out to students. College students (who have little to no credit) can utilize their parents' credit as co-borrowers to use on a property for the school year. This program additionally, can be valuable for moving after a divorce as well. There are some general guidelines in the event that you are considering taking out a FHA 'Kiddie Condo Loan'.
Guidelines
While this project is super simple to use, there are two things to keep in mind. A) the co-borrowers must be blood relatives and B) at least one of the co-borrowers must reside at the property. The FHA 'Kiddie Condo Loan' is a great tool for home buyers at many different stages in life and the guidelines are extremely easy to operate within.

Since the housing meltdown in 2008-2009, federal guidelines are much stricter now for all mortgages, including 'Kiddie Condo Loans'. Prior to 2008, a child with no income and no credit score could get such a loan with a family member as co-signer, according to the U.S. Department of Housing and Urban Development. The parent's credit score (usually higher) was used to qualify for the loan. However, under today's stricter lender guidelines, the lowest credit score among the borrowers is used to qualify for the loan. The borrower with the lowest credit score is usually the person who plans to live in the home.

Lenders
While the FHA 'Kiddie Condo Loan' is special in many ways, it's really no different than a regular FHA loan. Because of the unique guidelines of this loan program it is vital that you work with a qualified lender (see recommendations below). The FHA 'Kiddie Condo Loan' is not new, but rather contract regulations can change quickly and an educated lender will know the best ways to adjust to any changes.

Rates
Interest rates for FHA 'Kiddie Condo Loans' are typically the same as FHA rates. Getting the best rates on your loan can also be exceptionally reliant on the quality and information of the lender you choose. One critical thing to consider about this project is that 96.5% is the most extreme measure of financing on a single family home that can be received. Alongside that, whoever is making the actual payments to the home loan will be able to receive tax reduction.

Versatile Loan
The FHA 'Kiddie Condo Loan' program is a very popular option with college students, yet borrowers can get imaginative with approaches to actualize this project. While the title says "condo", this really implies a single family unit and it is not just for college students! The FHA 'Kiddie Condo Loan' program can help ease some huge money related weights like the staggering costs of school or any unanticipated financial burdens. This program has a wide range of use and in the event that you meet the essential guidelines, then this could be the right loan program for you.

This loan program provides insurance for both the lender and borrowers. The lenders have the the insurance that many incomes will be able to help pay the loan and keep the borrower in good standing with the loan. The borrowers will be able to take advantage of a very low down payment of around 3% of the home value. This is a huge drop in comparison to most conventional loans which can range up to 20% down. There are also very low competitive interest rates on 'Kiddie Condo Loans'. Other lenders will would require a high interest rate because the parents will not live on the property, however with this program you can qualify for a owner-occupied interest rate. These interest rates have the capacity to save you lots of money on monthly payments towards your mortgage. This programs also allows for the homeowner to establish good credit with the protection and coverage from their parents. This works because the credit of the parents is what helps the loan approval process, but the home owing, and mortgage payments will help the credit of both the parent and child. However, this is only if payments are made on time and in full to stay on good standing.

Qualifications
The qualifications and requirements for a FHA Kiddie Condo Loan are not extensive. One of the borrowers is required to live on the property as their primary residence. Again, don't let the name fool you, the property does not have to be a condo, single-family homes are included in this FHA loan program.
As an expert Denver area Realtor with RE/MAX Alliance, I'm happy to recommend local FHA Mortgage Lenders who understand the FHA 'Kiddie Condo' mortgage loan process and will work hard to secure the best loan rates and terms possible.
Get Pre-Qualified for a FHA Kiddie Condos Loan Today!
Preferred FHA Mortgage Lenders for Anthony Rael, RE/MAX Alliance - Denver Realtor

* Caliber Home Loans - Tiffany Swisher - 303.884.4137
* CMG Home Loans - Mike Wilcox @ 303.525.3568 or Deana Hollstein @ (303) 300-8910
* Peak Lending Team - Tenby Dahman @ 303.478.9126


Home Buyer's Guide |

Home Seller's Guide
Buy a Home | Find Your Dream Home | Pre-Qualifying for a Mortgage | Home Mortgage Loans
Homesnap App | First-Time Homebuyers | Relocation to Denver Colorado | Where to Live in Denver
Reliable Contractors | Honest & Trustworthy Advice | Community Resources | Active & Sold Listing Virtual Tours
Invest in Denver Real Estate | Sell a Home | Property Values | Denver Real Estate Market Reports
Colorado Realtor Reviews | Meet Anthony Rael | 'Just Call Ants' | Home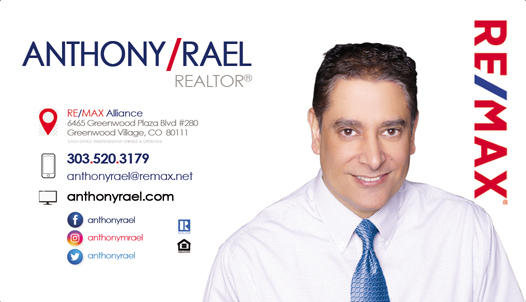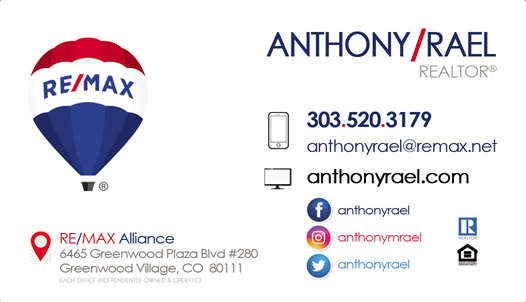 / RESIDENTIAL REAL ESTATE / NEW HOME CONSTRUCTION / RELOCATION / FIRST-TIME BUYERS / INVESTMENT PROPERTIES /




© 2005-2023 ▪ ANTHONYRAEL.COM | ALL RIGHTS RESERVED | PRIVACY | SITEMAP | HOME

Anthony Rael | REMAX Alliance - DTC | 6465 Greenwood Plaza Blvd #280 | Greenwood Village, CO 80111 | 303.520.3179
Licensed Colorado Real Estate Agent | Certified Negotiation Expert (CNE) | Seniors Real Estate Specialist (SRES)
AnthonyRael.REALTOR | HomesInColorado.info | SearchHomesInDenver.com | HomesForSaleDenverColorado.com

REMAX | RE/MAX, LLC | RE/MAX Rocky Mountain | RE/MAX Alliance | REMAX.com