Connect with 'Ants'
Some say REALTOR and some say RAELTOR, but no matter how you pronounce it, Anthony Rael is an experienced and dedicated Colorado real estate professional who understands the nuances of navigating through complex residential real estate transactions to achieve the best possible outcome. As a small business owner affiliated with the RE/MAX brand, I appreciate the value expected of me in order to positively impact the people and communities I serve. Simply put, my success is built on your success. My investment in partners such as mortgage lenders, title companies, inspectors, contractors, photographers combined with ongoing annual training regimen specifically designed to keep my skills sharp in order to guarantee a level of personalized service and demonstrate my commitment to you. From the first time we meet and long after the transaction is closed, I will always be here for you - let's connect.
Anthony M. Rael, Real Estate Broker
(c) 303.520.3179
[ Send a Message ]



Facebook | Instagram | LinkedIn | Twitter
I am committed to giving my all by engaging my mind, heart and soul. I refuse to be outworked by anyone and as a Certified Negotiation Expert - have the communication skills necessary to achieve the financial result you demand from a top-producing real estate agent. I offer technology, product solutions and individualized advisory services that are distinct from many others in the marketplace. By offering a high-degree of personal accountability, integrity, technical/marketing expertise and a sincere passion for delivering outstanding real estate services, you'll never have to worry about finger-pointing because the buck stops with me. I work with humility for the good of my clients, community, and fellow agents. Lastly, I am committed to transparency and authenticity. While being respectful, you can count on me speak openly, honestly and directly at all times with the understanding that differing opinions breed the best possible outcomes. This is how trust and reputations are built and I take a a great deal of pride in this approach.
My personal collection of images, memes & infographics I created for Facebook, Twitter banners, Instagram & Real Estate
Follow me my various social media & real estate sites including Facebook, Twitter, LinkedIn, Bing, Zillow, Trulia, Google.
My other real estate websites: anthonyrael.realtor | homesincolorado.info | searchhomesindenver.com
homesforsaledenvercolorado.com | searchnewhomesincolorado.com | homesnap.anthonyrael.com | justcallants.com
Denver Colorado Real Estate Market Reports
Check out my BombBomb Social Prompts (Blog)
Client reviews on RealSatisfied.com
Client recommendations & reviews on realtor.com
List of RE/MAX Alliance office locations throughout Colorado
Recipes from my 'American Lifestyle' Magazine









Buy a Home | Find Your Dream Home | Pre-Qualifying for a Mortgage | Home Mortgage Loans
First-Time Homebuyers | Relocating to Denver Colorado | Where to Live in Denver
Reliable Contractors | Honest & Trustworthy Advice | Community Resources
Invest in Denver Real Estate | Sell a Home | Property Values | Denver Real Estate Market Reports
realtor.com Reviews | Meet Anthony | Call 'Ants' | Home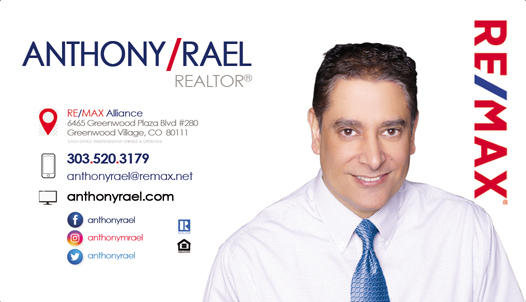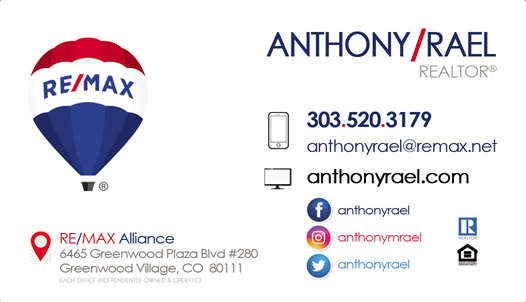 / RESIDENTIAL REAL ESTATE / NEW HOME CONSTRUCTION / RELOCATION / FIRST-TIME BUYERS / INVESTMENT PROPERTIES /




© 2005-2022 ▪ ANTHONYRAEL.COM | ALL RIGHTS RESERVED | PRIVACY | SITEMAP | HOME

Anthony Rael | REMAX Alliance - DTC | 6465 Greenwood Plaza Blvd #280 | Greenwood Village, CO 80111 | 303.520.3179
Licensed Colorado Real Estate Agent | Certified Negotiation Expert (CNE) | Seniors Real Estate Specialist (SRES)
AnthonyRael.REALTOR | HomesInColorado.info | SearchHomesInDenver.com | HomesForSaleDenverColorado.com

REMAX | RE/MAX, LLC | RE/MAX Rocky Mountain | RE/MAX Alliance | REMAX.com