Colorado's real estate market is fierce! We have never seen a market so heavily-weighted in a seller's favor than the past three years. I'll walk you through the anatomy of what we're seeing in the current marketplace as of March 2021 - then I'll share my thoughts on why Veterans remain at a competitive disadvantage.
Anatomy of the Current Denver Real Estate Market
As of January 2022, we're still experiencing a perfect storm...or not-so-perfect if you're a potential buyer. You see, the severe lack of homes available for sale (see latest market trends report) - combined with historically low mortgage interest rates is causing prices to rise sharply with no end in sight. As we look at a typical home that comes on the market, you can safely assume that it's priced right or maybe even at the top of the market. Once it goes live in the MLS, real estate agents scramble to book a 15-minute showing appointment on a specific day. As a buyer rushes through the home, they will have to decide if they want to write an offer within a matter of hours. Oh sure, the MLS notes say offers will be accepted through 8pm Sunday, but that's not always the case, so take it with a grain of salt and be prepared to act quickly or it will be under contract while you "think it over". Rest-assured if the property is in reasonably good condition, in a good location and within your price-point, it's most definitely going to attract multiple offers ranging from a half dozen to several dozen offers. What that means to you is you'd better have the stomach and wallet to write an amazing offer that can separate you from the pack and that usually includes things like x-dollars over the list/asking price + limiting your inspection to health/safety or structural issues (or waiving the inspection contingency altogether - which I don't recommend) + adding an appraisal gap - which means you will guarantee to come up with the extra cash if the appraisal comes in lower than your offer. Be prepared to close in less than days as well as providing a post-occupancy up to 60-days for the seller to move. Oh...and if you're not already pre-approved with a mortgage lender - forgetaboutit - your offer won't even be considered!
In a nutshell, that's what the Denver market looks and feels like. I am happy to walk you through a number of scenarios in much greater detail. Keep in mind, the market is dynamic and ever-changing and there are also opportunities as well - you just have to know where to look and how to negotiate them. For example, I closed on a home a few months ago that was listed over $500,000, we offered $475,000 and closed at $485,000 with the seller paying $3000+ of my buyer's closing costs. So it's not impossible! I'm also happy to say that my last two closings in 2021 and first closing of 2022 were with VA buyers!
How are Veterans at a competitive disadvantage?
This is a touchy subject for me because it makes my blood boil to see how VA buyer offers are not taken seriously. Many listing agents and sellers simply do not fully understand VA Loans. They've unfairly become stigmatized in the current market because (amongst other things) many believe that a $0 Money Down Payment loan somehow means that the Veteran either doesn't have a down payment or sufficient funds to close. Neither of these is safe to assume. I have been working with Veterans and VA loans for 16 years and have never (ever) had a pre-approved VA loan that failed to close - yet cash and conventional deals fall through all the time. Just because a Vet decides not to put any money down doesn't mean he/she doesn't have it, quite honestly in many cases, it's quite the opposite. Let's say you had $10k/$20k/$30k or $100k to put down on a property, but the loan you qualify for doesn't require a down payment - would you? No freakin' way! Not only do VA loans not require a down payment, they also don't require expensive monthly mortgage insurance and the interest rate is always just a little lower than anything in the marketplace. Again, would you pass that up if given the chance? No freakin' way!
So, on a very basic level, if you were selling a $400,000 home and had a handful of offers assuming $10,000 over list price and none with sale contingencies: Buyer#1 $80,000 down; Buyer#2 $100,000 down; Buyer#3 $200,000 down; Buyer#4 Cash; Buyer#5 $0 down. We haven't even begun to discuss inspections or appraisals yet, but you think a seller might be leaning in one direction already? Maybe...maybe not. Some sellers have mentioned reading about strict VA inspections, appraisal and deadlines - all contributing to hassles they'd rather not deal with. Fair enough...if it wasn't inaccurate. In my experience, inspections that are blatant health/safety issues will be called out, but they really just want to ensure the place is habitable with working appliances, running water and a working furnace. Is that really too much to ask?

Moving onto appraisals and deadlines. It's absolutely true that VA appraisals have no deadlines. Whoa...whoa...whoa. No deadline means a seller is at the mercy of a deadline that has no actual date of completion. Yeah, so what! In my experience, VA appraisals are getting done sooner than conventional appraisals anyway (my last VA appraisal was completed in eight business days). Many fear that VA appraisers tend to come in low. Once again, I've seen more conventional appraisals some in "soft" than I have VA appraisals. So you say, that's why I would just take the cash offer because most of these won't require an appraisal. True, but sometimes cash buyers will decide to bail on the transaction because they find something better. Of course, they won't use that as an excuse to terminate the contract, but it happens all the time.
So let's move on to appraisal gaps. I don't like the practice, but understand the need to offer them in order to separate your offer from the rest you are competing with. Seller's love appraisal guarantees...and if you were selling, I can assure you would too. So let's assume all of the buyers in the scenario above, guaranteed most if not all it. How would you rate the offers now? Did the way you felt when we started change at all up to this point?
Of course, I am not able to drill into every single detail of a typical transaction like this because a purchase contract is a living, breathing document that can be modified and not all purchase contracts are written identically. I'm simply trying to point out the potential tripping hazards or roadblocks VA buyers tend to experience in our market. The intention of this article is to help educate sellers so they might consider giving serious consideration to Veteran buyers. At the end of the day, the money a cash buyer brings to the closing table is identical to the money a VA buyer brings. Besides maximizing their equity, the only thing a seller should be focused on is getting to the closing table and I can think of no better way to get there than accepting a VA loan. The opinions expressed here are solely mine and not that of RE/MAX Alliance.

-------
As an experienced VA/Military-friendly Denver Realtor with RE/MAX, Anthony Rael is fortunate to recommend local VA Mortgage Lenders who understand the VA mortgage loan process and will work hard to secure the best VA loan possible. Since VA guarantees a portion of the loan, this enables the mortgage lender to provide you with more favorable terms (saving you thousands of dollars!). Anthony Rael, your VA Military-friendly Realtor with RE/MAX Alliance - 303-520-3179
Get Pre-Qualified for a VA Home Loan Today!
Preferred VA Mortgage Lenders for Anthony Rael, RE/MAX Alliance - Denver Realtor

* Caliber Home Loans - Tiffany Swisher - 303.884.4137
* CMG Home Loans - Mike Wilcox @ 303.525.3568 or Deana Hollstein @ (303) 300-8910
* Peak Lending Team - Tenby Dahman @ 303.478.9126

I would like to personally thank ALL of our Service Members, Veterans and eligible surviving spouses for your sacrifice to our country! I'm always grateful for the opportunity to help military families buy & sell homes in the Denver Metropolitan area. I work with retired military buyers and sellers & assist military families who are relocating or transitioning from active-service to various civilian employment with defense contractors such as Lockheed Martin, General Dynamics, Northrop Grumman, Boeing & Raytheon. I consider it an honor and a privilege to provide expert, professional real estate services to military families and I look forward to help you buy or sell a home. If you have any questions relating to pre-qualifying for VA Home Mortgage and finding a great home in the Denver metro area, call Anthony Rael at (303) 520-3179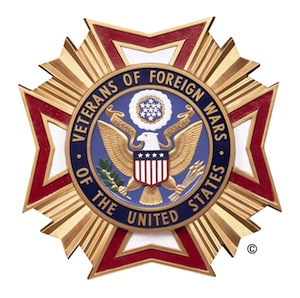 Other VA Resources:

VA Office in Denver, Colorado
United States Department of Veterans Affairs
Federal Benefits for Veterans Booklet


Home Buyer's Guide |

Home Seller's Guide


Buy a Home | Find Your Dream Home | Pre-Qualifying for a Mortgage | Home Mortgage Loans
Homesnap App | First-Time Homebuyers | Relocation to Denver Colorado | Where to Live in Denver
Reliable Contractors | Honest & Trustworthy Advice | Community Resources | Active & Sold Listing Virtual Tours
Invest in Denver Real Estate | Sell a Home | Property Values | Denver Real Estate Market Reports
Colorado Realtor Reviews | Meet Anthony Rael | 'Just Call Ants' | Home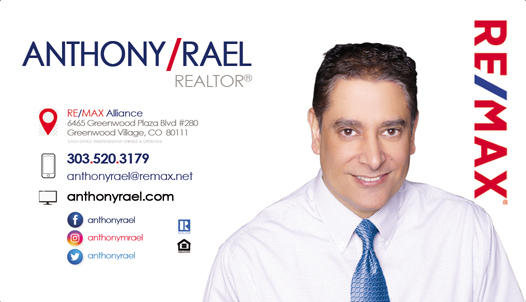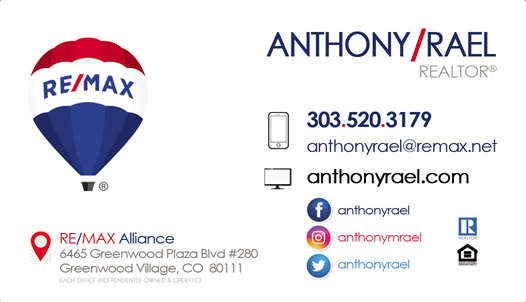 / RESIDENTIAL REAL ESTATE / NEW HOME CONSTRUCTION / RELOCATION / FIRST-TIME BUYERS / INVESTMENT PROPERTIES /




© 2005-2023 ▪ ANTHONYRAEL.COM | ALL RIGHTS RESERVED | PRIVACY | SITEMAP | HOME

Anthony Rael | REMAX Alliance - DTC | 6465 Greenwood Plaza Blvd #280 | Greenwood Village, CO 80111 | 303.520.3179
Licensed Colorado Real Estate Agent | Certified Negotiation Expert (CNE) | Seniors Real Estate Specialist (SRES)
AnthonyRael.REALTOR | HomesInColorado.info | SearchHomesInDenver.com | HomesForSaleDenverColorado.com

REMAX | RE/MAX, LLC | RE/MAX Rocky Mountain | RE/MAX Alliance | REMAX.com