Denver Colorado Real Estate Housing Stats & Market Trends Report


October 2018 Denver Metro Association of REALTORS® Market Trends Report

Denver Native Anthony Rael offers unparalleled expertise when it comes to understanding the Denver Metropolitan real estate market. He is the immediate Past Chairman of the Market Trends Committee on behalf of the Denver Metro Association of REALTORS® as well as a Denver Regional media spokesperson on behalf of the Colorado Association of REALTORS®. His in-depth understanding of MLS market trends and statistics make him a trusted "go-to" resource for local, regional and national media outlets. His expert insights and analysis have been featured in the Denver Post, Denver Business Journal, MSN Money, Kipplinger's, Forbes, HousingWire.com, 5280 Magazine, as well as 9NEWS, 7NEWS, CBS4 NEWS and many other publications.
If you or someone you know is curious to learn more about the impact of rising home values and how it may affect your decision to buy or sell, 'Call Ants' or connect via social media or call 303.520.3179. I'm happy to provide expert advice & counseling.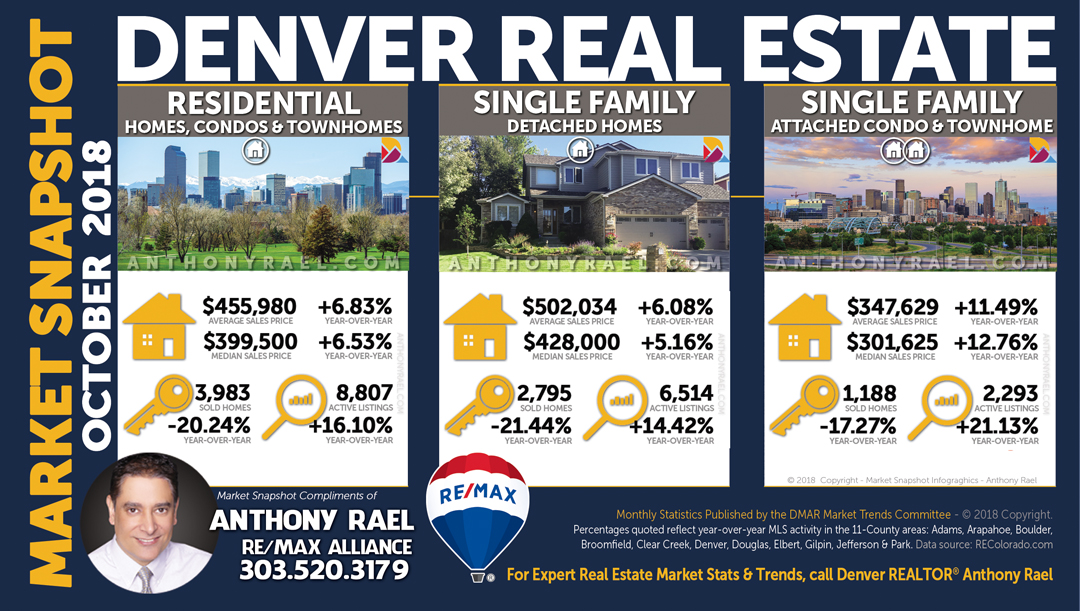 Month-end Inventory, Average & Median Sales Prices, Days on Market (DOM), Price Appreciation, Sales Volume
Single Family Homes | Single Family Condos | Residential Market | Luxury Market ($1Million +)
Denver CO Real Estate Market Snapshot & Infographics by Anthony Rael, RE/MAX Alliance

DOWNLOAD THE OCTOBER 2018 DENVER REAL ESTATE MARKET TRENDS REPORT

Glossary of Terms for Real Estate Stats
What is Median Sale Price?
What are Active Listings?
What are New Listings?
What are Sold Listings?
What is Pending/Under Contract?
What are Days on Market?
What is the Affordable Housing Index?
What are Months Supply of Listings?